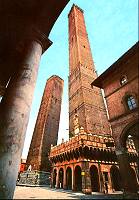 The BSC, Bologna Health and Knowledge Committee, is a scientific and cultural high value non-profit organization.
The BSC, founded in june 2001 in Bologna, is oriented to improve, by means of publication of thematic volumes (the first is on old age) and organization of conferences, the medical and scientific knowledge, especially for the weaker sections of society and with respect to their own specific problems.
The BSC is also strongly engaged in forming the professional and voluntary staff, promoting solidarity and stimulating the participation and collaboration of the patients, especially of the weaker sections of society (the elderly, the children, the disabled…).
For more informations please visite our web site: www.cauterium.org (the full english version is coming soon) or contact us using our email address: info@cauterium.org